PR & COMMUNICATIONS
Within our Marketing team, we have various PR and Communication specialists, covering a diversity of local markets. Our Media Buying team maximises the visibility of our campaigns using global media coverage through numerous on and offline media channels.
MARKETING OPERATIONS
Our Marketing Operations department is responsible for all marketing productions. This includes event marketing, from the production of trade-fair stands, fashion shows, and store openings, to crossover collaborations, store windows, and look-books.
Our in-house Photography & AV team delivers over 400 productions each year – spanning brand campaigns and social media, to e-commerce, stores, shows, and events. Shoots take place on a daily basis, whether on location, or in our in-house studio with our team of photographers, producers, and stylists. Post-Production is also done in-house, ensuring the quality of all images.
CREATIVE STUDIO
This creative hub is responsible for brand DNA. From building new campaigns, to in-store communications and online tools, the Creative team works in close collaboration with departments across the company.
3D Design (Design & Development) is responsible for the development of G-Star stores, shop-in-shops, corners, trade-fair presences, and crossover projects. Our key characteristics of innovation and functionality drive the team, with product and interior design existing at the heart of the brand. During high-end productions, our 3D Design department leads collaborations with large production companies and directors.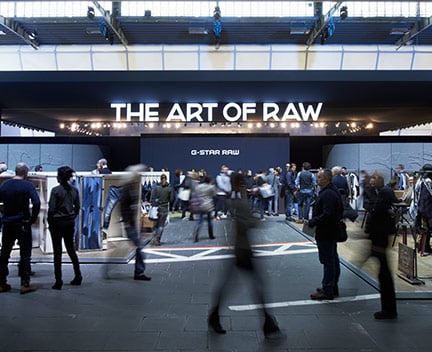 We currently have
7
vacant positions in
Marketing